Safe, Eco-Friendly Drain Solution
Bio-Clean is non-poisonous. It creates no heat, no fumes, no boiling. It does not attack live tissue nor inorganic materials but only organic wastes like grease, hair, food particles, paper, cotton, and sewage. This makes Bio-Clean safe for people, your plumbing, and the environment.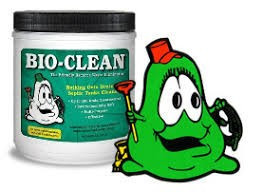 What is Bio Clean used for?
Bio-Clean is a special combination of natural bacteria and enzymes formulated specifically to digest dead organic waste found in your plumbing system. Bio-Clean will remove the grease, hair, soap scum, food particles, paper and cotton that are plugging your drain lines.